From the President's desk
Secret tapes in Iceland of members of the parliament – Alþingi up in arms.

If you have followed the news from Iceland you know the island is turned upside down. So is the parliament after news outlets published tapes of conversation between six of its members wheeling and dealing, drinking at a bar next door to Alþingi, during work hours. What shocked the nation is the vulgar, sexually explicit and inapproprate language they used calling out disabled, immigrants, women and fellow members of the parliament. None of the MPs stepped down despite public outcry and demands thereof but two were fired from their party and two are taking an upaid leave. Sad times indeed and it will take some time for Alþingi to rebuild its reputation and trust of the public. Good luck Iceland.
Christmas and New Year's is a wonderful and special time to visit Iceland. Every house is lit with holiday lights which brighten up short December days. It's a time to spend with loved ones, enjoy food and festivities, peace and tranquility, except perhaps for New Year's Eve when the nation goes wild with fireworks. I hope you all get an opportunity to experience this first hand.
In this
newsletter
you will find information about Þorrablót 2019. You can pay membership and buy tickets on our webpage
www.icelandchicago.org
I look forward to seeing many of you at Þorrablót in February.
We also have news from our General Meeting and Christmas tree, which we will take down January 13th
if you are interested in joining us.
Gleðileg Jól – Merry Christmas.
Einar Steinsson
President
From the Editor
In this
Newsletter
we have details on the upcoming Thorrablot 2019, the past 2018 The Greater Icelandic Open and the putting up the Christmas tree at The Museum of Science and Industry.
I hope you have a wonderful holiday season, whether you spend it in the Chicagoland area, somewhere warm, or you get to enjoy the Northern Lights in Iceland.
As always free to contact me at
kolbrkr@gmail.com
with original articles for the
newsletter
or suggestions on topics to cover.
Kolla Kristjansdottir Fass
Editor
Thorrablot 2019
ÞORRABLÓT 2019 – February 16, at 6 PM, The Swedish American Museum.
We are ready and open for business – Renew your membership and purchase tickets today.
www.icelandChicago.org
We're happy to keep prices the same as last year!
We're excited to welcome back Bjössi Greifi (Count Bjössi) as our musical entertainer but some of you know Björn Grétar Sveinbjörnsson as a member of the famous and popular Icelandic band, Greifarnir (The Counts) and many more from our previous Þorrablót. We're also happy to celebrate at the Swedish American Museum and to have Master Chef Ari Hallgrímsson back and in charge of the food and on hand to answer all your questions about Icelandic traditions, old or new. We'll open the house at 6 PM with a welcome cocktail, homemade gravlax, double smoked leg of lamb, Brennivin, and rotten shark. On the dinner table you'll find standards such as pickled rams' testicles, sheared sheep heads, dried haddock, blood pudding, liver pudding, hangikjöt, rye and flat bread, and other delicacies you've been craving… For dessert we'll have a traditional 'Kaffihlaðborð' with pönnukökur, kleinur, marengstertur, Siggi's skyr, and other goodies prepared by members. We'll treat you to the best Glacial water in the world BUT for other drinks, this is a BYOB event.
We'll have our famous and ever popular raffle where you can win a ticket from Icelandair to the Old Country plus many more prizes, Icelandic music, design wool product, chocolates, art work, and more.
Þorrablót is a fun filled night a la Icelanders' style where ´maðr er manns gaman´. We look forward to see you all and sing and dance the night away.
Skál!
Þorraþræll
The small print...
Ticket prices 2019
Members: $65
Guests: $80
70 and older: $55
11-17 and Students: $55
10 and younger: Free
The deadline to purchase tickets is February 7th. We will not sell tickets or accept payments at the door. We have sold out for the past several Þorrablót. You can click on the links below to pay membership fees and buy tickets or visit our webpage
www.icelandChicago.org
If you are unable to buy your tickets online, please mail your check to:
Erik Johnson
2220 W North Ave, Apt 3
Chicago, IL, 60647
scarletham@gmail.com
Click
here
to pay membership fees ($20 for family; $10 for individuals and students), and fill out the census form
Click
here
to purchase Þorrablót tickets for members
Click
here
to purchase Þorrablót tickets for non-members
The smaller print...
No refund of tickets after February 7th, as we will have committed to all expenses. If you mail in a check it must be postmarked by 2/7/19.. Out of respect to everyone please comply to deadlines.
The Swedish American Museum
5211 N. Clark Street
www.swedishamericanmuseum.org
Designated parking lot for 14 cars, first come first served at the North East corner of Foster Ave and Ashland Ave. Street parking available.
Many thanks to all our sponsors. Please visit their websites
http://www.icelandchicago.org/icelandic-association-chicago-sponsors
.
The Greater Icelandic Open 2018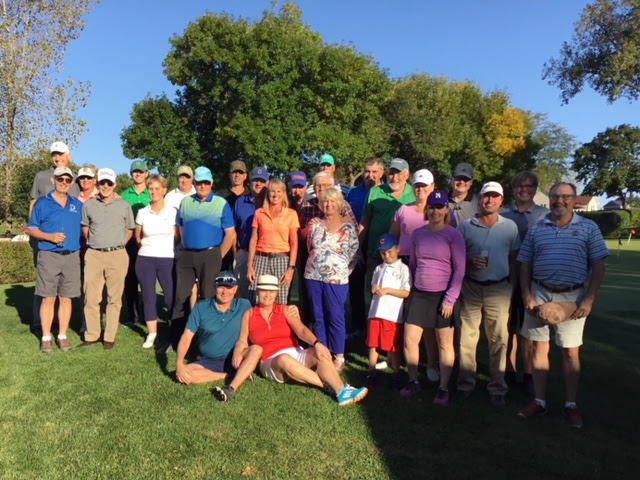 We had our golf tournament Sunday September 23th for the 13th time in fantastic weather at one of our favorite golf courses, Hilldale Golf Club in Hoffman Estate. The 2018 Greater Chicago Icelandic Open Champions are Kathy and David Mehl who also won Closest to the Pin prize. Second place winners were Stephen Burn and Nik Rokop and Max Henley and Jim Sveinsson took the third place with. Indeed, a close and exciting competition. Paul Sorensen took the Longest Drive for men. Anna Kardal won the Longest Drive for women, Hallgrímur Arason the Longest Putt. No one made a Hole in One but Hallgrimur Arason was the closest to the pin and won the prize of $500 from Icelandair. Everyone enjoyed a fantastic time and I look forward to seeing all of you next year. Until then, keep it in the short - Einar Steinsson.
Christmas Tree at MSI
The 2018 Christmas tree at the MSI was decorated at the Museum of Science and Industry (MSI) on November 4th by our fabulous volunteers with hand crafted decorations by Gudrun and Karl Jonsson. If you haven't had a chance to see it yet, you have time until January 6th. Visit the
MSI website
for more info. We will be taking down the tree on January 13th. Contact
Lena
if you are interested in helping.